About Houston Compression & Services
Air Compressors, Gas Compressors, Service & Parts!
We provide the Industrial, Oil & Gas, Petrochemical and Medical industries with Air Compressor equipment, Rotary Screw Compressors, Centrifugal air and Gas Compressors. Houston Compression & Services also provides refrigerated air dryers, desiccant air dryers and membrane air dryers to clean and dry the compressed. To accommodate the gas industry, Houston Compression & Services offers a complete line of LeROI gas compressors.
In addition to supplying stand-alone compressors, our engineering team is here to help customize systems to meet your specific requirements. Our Houston Facility has the designing and manufacturing capabilities to customize systems to your exact specifications. HCS is part of the IGS Family of companies including Generon IGS, Houston Vessel Manufacturing and Global Nitrogen Services.
At the core of the Houston Compression & Services is our ability to service our existing customers as well as our future customers. Air Compressor Parts and Desiccant air dryer parts, will be stock in Houston. Our Service technicians are on call 24 hours a day 7 days a week. Here are some of the brands we distribute and service. We usually stock parts for almost every compressor brand!
New Facilities
The construction of our 30,000 sq. ft. shop is well under way. Stay posted for the inauguration party! Houston Compression & Services will be moving to the new building in the Generon IGS Houston Campus as soon as the building is finished. The new space will increase our warehouse, office and shop space. We are ready to take your orders!
Hydrovanes at Bargain price!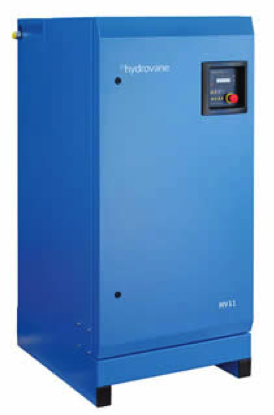 We are currently waiting on the new Hydrovane models and we are moving to our new facility shortly, so the Boss is letting us give such ridiculous prices that it will almost be charity! If you are thinking of buying a Hydrovane compressor, make sure you ask for these last ones we have. You will of course get our excellent service at an excellent price. Hurry up before the Boss changes his mind! See below for pricing.
Compressor Financing
Need to buy a Professional grade compressor at amateur payments?
We have financing solutions for you. Contact Ron Smith or Mario Chapa for a credit application. We can finance any compressor between $5K and $200K from 24, 36, 48 and 60 monthly payments. The federal government updated IRS Section 179 which offers accelerated depreciation opportunities on equipment and software purchased in 2013.

The 2013 Section 179 offers companies that spend less than $2,000,000 this year on qualified new and used equipment to accelerate depreciation expense up to $500,000. 50% bonus depreciation is also available for new equipment purchases for those amounts not covered by Section 179. A cash purchase, finance agreement or capital lease all qualify for Section 179.
How to know when it's time to buy your new compressor.
So you have an old compressor that is still running fine, yet your operation is growing and you are hesitant of whether to buy another small compressor to add to your facilities or make the leap to a more modern and bigger compressor and retire the veteran. Still, you are facing a tough decision. Stay with a recip (short for reciprocating compressor, a piston compressor) or make the leap to a rotary vane or a rotary screw or why not, a centrifugal and while we're dreaming, a Quantima.
Tell-tale signs that you need a new compressor are: low pressure in your line, meaning that your compressor just doesn't has the capacity, your compressor overheating, oil in your air, your compressor never shutting or frequent compressor failure. Or, you have several small compressors throughout the plant.
First of all, let me say this. Almost every industrial process in the world requires compressed air in one way or another. In today's modern production systems, compressed air, electricity and hot and cold water are ubiquitous to virtually all manufacturing plants. Some big plants even call them facilities and have them as a separate building in their campuses. Facilities are the heart and soul of any industry. Yet they seem to be neglected as some necessary evil which without which no process is possible.
I have visited many different manufacturing companies over the years and have usually seen a marked difference between the age and care of their production equipment and their facilities equipment. This is especially true in small businesses that are growing fast and becoming medium or large sized. Usually people in this situation can't cope with the growth spur their business is in, so they spend money in the biggest plasma table or air driven mixer their money can buy, but try to upgrade their compressor with a band aid, usually getting: another tank, a bigger pipe or a bigger air filter or another small compressor to work in tandem. In the end, they realize that the air supply is simply not enough for that Texas size machine they just bought. The problem is that a compressor is a machine, and as such, there is a maximum flow rate and pressure for each compressor size and type.
Before spending money in these small time solutions, you need to consult your local compressor vendor to assess your situation. Investing in a compressor that doubles your air output is not twice as expensive as one half the size, so you may want to consider that. You want to oversize your compressor so by the end of the year you don't need to buy another one. Big machinery is more efficient than small machinery because of friction to inertia ratios. This holds true in compressors, ships, engines, motors, airplanes, trains and trucks. For example if we compare two rotary screws; the CompAir L75 has a 100 HP motor, it delivers 444.5 cfm @ 125 psi. On the other hand, one L07 has a 10 HP motor and delivers 38.7 cfm @125 psi. So if you buy ten 10 HP compressors, you would be losing a whopping 14.85% in excess energy due to lost efficiency. The same principle applies to piping. It is better to have one big main pipe than many smaller pipes with an equivalent cross section. And that's the efficiency part. Price wise, you could have bought the 100 HP compressor with the money you spent in your first four 10 HP compressors. So the purchasing efficiency is even better that the mechanical efficiency when you size up your compressor.
Other things to consider are: the growing trend of your business or air requirements and the type of compressor you need. If you need super high pressures, such as 5000 psi, you may not avoid the multistage recips. But if you just use a lot of air at around 80 to 190 psi, you may very well use a rotary screw or centrifugal for super high air consumption, such as 1500 cfm, then you should seriously consider a Quantima .
The thermo dynamical efficiency of compressors varies according to pressure and flow rates, but it is fair to say that the efficiency of compressors increases as follows:
Recip 3.4 cfm/HP @ 140-175 psi
Hydrovane 4.036 cfm/HP @ 115 psi*
Rotary Screw 4.44 cfm/HP @ 125 psi
Quantima 4.75 cfm/HP @ 116 psi
*Increases at lower speeds or lower pressures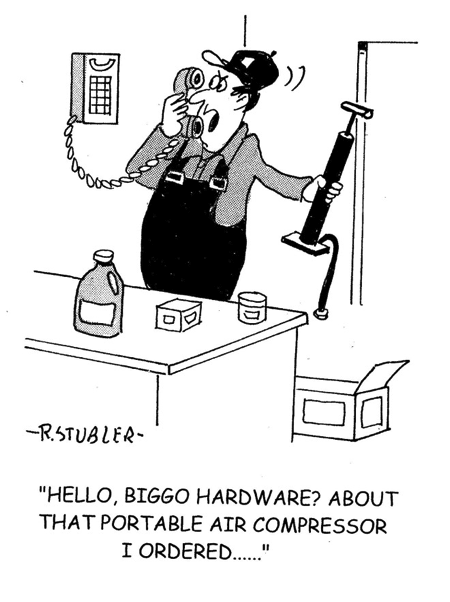 Keep in mind that these are nominal HPs of the motor size, not actual current, but still a very good approach. Also, The Hydrovane, Quantima and the rotary screw can vary their speed thus avoiding turning on and off and saving more electricity because of less starting.
Unfortunately the world is not perfect and pricing increases with efficiency. A 10 HP recip may cost only 60% of a 10 HP rotary screw. Here is where you have to decide if you want efficiency or a low investment. The Hydrovane is a very good in between, especially if you get the ones we have in sale in this issue.
Another thing to consider is financing. You may want to take one of our financing options and go for the best compressor you can get. It may pay itself in a few years in energy savings and by not slowing or shutting you down. It is very important to talk to an expert that can guide you through all your options.
Finally, sometimes you need air of a certain quality and quantity and you have no other choice than a top of the line centrifuge or an oil less screw, in that case, like vaccines, just do it quickly! If you get into our website www.houstoncompression.com and then hit the products tab, and then select the compressor family, you will be able to find all the brochures and specs for the different types of compressor. But remember, we are here to help so if in doubt, give us a call or send an email and we will be happy to help you select your next compressor or dryer.
Hydrovanes at Bargain price
These are our one time offers so take advantage today!