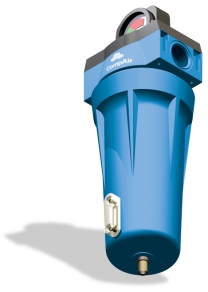 CompAir Filters
Industries like PET blow molding, injection molding, aeronautical valve and control testing require dry and filtered compressed air.
CHF Series – High pressure filters from 480 up to 28,380 SCFM
Features
The need for high pressure equipment like the CHP Series High Pressure dryers and the CHF Series High Pressure filters has never been greater. The flexibility associated with the 5 grades of filtration in the CHF Series allow for complete customization when it comes to selecting the filtration level that best meets your application needs.
High Pressure Filters Meet High Pressure Dryers
CHP Series high pressure refrigerated dryers are carefully engineered to provide consistent dew points of 30°F. Integral filtration, standard on all CHP Series models, removes bulk liquid up to 10 micron; solid particulates up to 3 micron; and oil droplets up to 5 ppm w/w (6 mg/m³). CHP high ressure dryers are a perfect compliment to CHF Series high pressure filters.
CAF Series – Compressed Air Filters from 20-21,250 CFM
CAF Series Filters provide your compressed air system with premium quality filtration for the three typical contaminant types

Solid particles come from ambient air contaminants like dust and from rusted, oxidized pipework. They will cause pneumatic equipment to malfunction, cause instrument and control failures, and contaminate end products.
Condensed water droplets come from the humidity in ambient air. Water will oxidize pipework and pneumatic equipment, ruin paint finishes and end products.
Liquid oil and oil vapors are introduced by compressor lubricants and by hydrocarbon vapors present in ambient air. Oil-free compressed air is particularly important in food and pharmaceutical processes.